Backup-as-a-service i C-Cloud med Veeam Backup af Office 365
Consular tilbyder Veeam løsninger, hvor minimum én kopi af data lander i C-Cloud. En Cloud løsning placeret i Danmark, hvor der er 100% kontrol med data.
C-Cloud understøtter både Veeam backup end replikation (VMware backup) og Veeam Backup for Office 365.
Produktionsdata ligger hos kunden, enten i eget datacenter eller hos en cloud leverandør. Hvis det er en kopi af backup, så lander den direkte i C-Cloud. Er der behov for to kopier af data, kan den første kopi være enten hos kunden eller i C-Cloud, og anden kopi er per definition i C-Cloud. Hvis der er to kopier af backup data i C-Cloud, så ligger de naturligvis på to forskellige storage systemer og i hvert sit datacenter, hvis der er ønske om det.
Som udgangspunkt laves setup'et så simpelt som muligt. Det kan være så simpelt som et CIFS share eller iSCSI luns, som så benyttes som target for et kopijob i Veeam.
Det kan også være så "kompliceret", som et Veeam Cloud Connect target.
Det kommer altsammen an på behov, datamængde og ønske til sikkerhed.
Hvis vi tager udgangspunkt i setup med backup af Office 365, hvor Consular står for alt ved backup.
Consular Veeam installation bliver tilknyttet kundens Office 365 via app installation, så efter opsætning er der intet brugernavn/password, som kan kompromitteres. Alle rettigheder styres direkte i kundens Azure AD.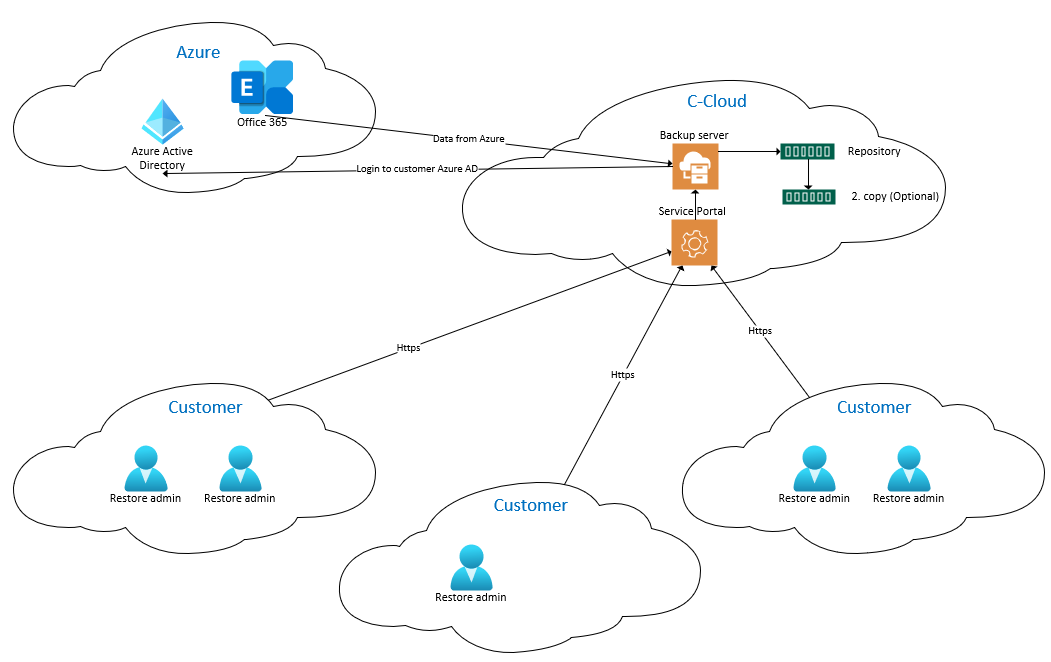 Data gemmes i C-Cloud, og som udgangspunkt på iSCSI luns tilknyttet Veeam proxy servere, dedikeret til den givne kunde. På tegningen bliver det betegnet som "Repository". Et repository består i C-Cloud af en proxy server, som har adgang til at gemme data på et storage system. Større kunder har dedikerede proxyservere. Mindre kunder kan deles om en eller flere proxy servere.
Der er mulighed for at beskytte data yderligere ved hjælp af snapshots, sådan at data ikke fuldstændig kan slettes af Veeam eller nogen med Veeam rettigheder. Disse snapshots kan yderligere beskyttes, så de bliver immutable for nogen med direkte storage adgang. Snapshots skal ses som en ekstra korttidsbeskyttelse. Det er en option til vore sikkerhedsbevidste kunder, som gerne bruger lidt ekstra for at få denne yderligere air-gapping funktion.
Det er unikt for C-Cloud, at der benyttes sikkerhed fra flere lag. Dvs at data sikres både med hardware snapshots og af opsætning i Veeam. De fleste andre løsninger tilbyder enten det ene eller det andet. Hvor de fleste slår på Veeam integration ind i S3 for immutability, hvor meget af sikkerheden ligger i at man har implementeret det rigtigt. Der er storage snapshot lidt mere simpelt og lettere at teste, og mange af vores kunder oplever, at merforbruget af storage er væsentlig mindre.
Data kan yderligere beskyttes ved at blive kopieret over på et andet storage system; evt. i et andet datacenter. På tegningen betegnet "2. copy (Optional)"
Data kan restores tilbage til Office 365 af kunden selv via en Service Portal. Login til restore portalen sker med kundens egne credentials og adgang tildeles via kundens Azure AD.
Som med enhver nutidig IT-platform, så begrænses adgange så meget som muligt. Dvs. at Consular ikke har adgang til mere, end hvad der er absolut nødvendigt for at vedligeholde løsningen. Det kan være differencerede bruger konti, Role-Based-Access-Control (RBAC) osv.
Selve adgangen til Serviceportalen sker via HTTPS. Denne forbindelse begrænser vi så meget som muligt. F.eks til at den kun kan tilgås, når man kommer fra kundens netværk. Det kan være via access list i en firewall eller via VPN, alt efter aftale med kundens sikkerhedsafdeling.
Dette er en løsning, hvor hele backupløsningen er lagt ud til andre, hvilket kan give god mening. Det at udlicitere backup, enten hele backup opsætningen eller kun den tredje kopi, kan give en sikkerhed, som er svær at opnå ved at holde alt in-house. Forskellige sikkerheds domæner giver noget sikkerhed i designet, som bare ikke kan opnås, når driften har adgang til hele infrastrukturen.